We invite you again to the
International Mazdaznan Summer Meeting in 2022

The motto of the week is:
Mazdaznan life science -
a holistic yoga and development path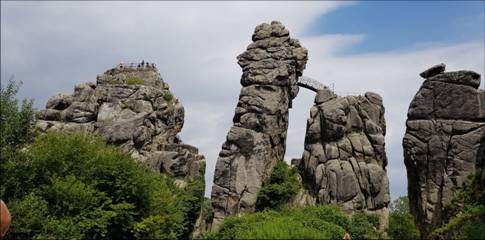 Location: Yoga Vidya center, seminar house Shanti
Bad Meinberg, in the Teutoburg Forest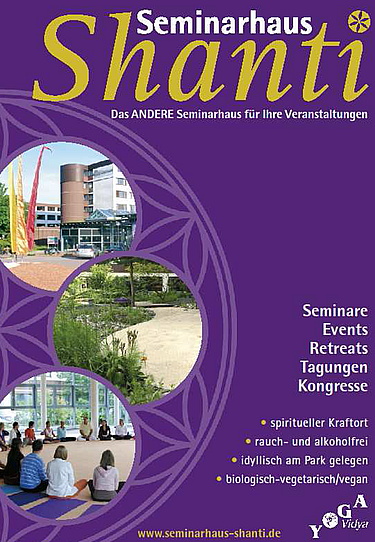 Dates: Sunday 7th to 14th August 2022
This is a week of vacation, information, inspiration, practice and exchange
No matter whether you have known Mazdaznan for a long time, have rediscovered it for yourself or want to discover it, let yourself be enriched by a week with sound theory, lots of practice, lectures, music, singing and the experience of the connecting community. This week we want to familiarize ourselves with the contents of Mazdaznan in the so-called Caucasian Yoga and examine its roots in the Persian Avesta teachings of Zarathustra.
The program includes practical lessons and lectures based on Mazdaznan life science. The practice includes prayer, breathing, harmony and glandular exercises, as well as panopractic and the Egyptian positions. One afternoon we will visit the natural and cultural monument of the Externsteine, just a few kilometers away. There is a bus transfer and a tour here. Another afternoon is free for your own excursion in the area.
The conference language is German and English, there will (hopefully) be translation for each.
Children are welcome, we will organize a seperate program for children.
We are guests in the seminar house Shanti, which is surrounded by greenery, on the edge of the large, idyllic country forest park of Horn-Bad Meinberg, away from everyday life. It is part of Germany's leading yoga center, consisting of a campus with three large houses, which exude a pleasant and spacious atmosphere thanks to their tasteful interior design. Beautiful seminar rooms are available to us.
A large terrace and extensive meadows directly at the house and the Silvaticum tree park enrich our stay and can also be used for outdoor events and long walks.
The rooms:
The single, double and quadruple rooms are bright and friendly and each has its own bathroom in the room.
Camping in a tent:
There is a campground on campus. Showers and toilets in the seminar house or other campus buildings are available to all tent and camping guests.
Meals:
The kitchen spoils us with two buffet meals (10:00 and 17:30). The excellent organic dishes in organic quality offer something for everyone, regardless of whether you eat gluten-free, raw or vegan or lacto-vegetarian.
Beverages:
Throughout the day we have swirled tap water, Grander water and osmosis water in the house, which you can fill in your own bottle at any time. Please bring your own bottle with you. You can also make yourself a tea.
General
Since most seminar rooms are laid out with light carpets, they may only be entered with socks and without food. We ask you to pay attention to this. Therefore, please bring thick socks with you.
We would like to draw your attention to the fact that we are guests in the yoga house and ask you to observe their rules. This includes the silence (from 10 p.m. to 7.30 a.m. in the event rooms and hallways). Please use biodegradable care products. The house is a non-alcoholic, tobacco, meat and fish-free room, the consumption of these things is prohibited on the premises.
Coffee with caffeine is available in the coffee area. There is also a WIFI available. Otherwise, please do not use electronic media.
A smaller swimming pool in the adjacent rehabilitation center and a larger swimming pool (including sauna) in the nearby bath house can be used for a fee.
Liability and consent:
We would like to point out that participation in the meeting and the carrying out of exercises are at your own risk.
By registering, you agree that you comply with the rules of the place.
Registration is binding upon transfer of the participation fee. If you cancel by May 30th, 2021 we have to reserve a cancellation fee of 75, - Euro per participant. From 1.6.2021 additional costs may be added. If necessary, please take out travel cancellation insurance.
Payment by bank transfer to the following account:
Owner: Verlag Mazdaznan GmbH
IBAN: DE59 4306 0967 7010 3435 01, BIC: GENODEM1GLS, GLS Bank
Topic: Mazdaznan summer week 2021
Prices:
| | | |
| --- | --- | --- |
| Mazdaznan Week 7th - 14th August 2022 | Early booking discount until February 28, 2022 | Regular price until May 30, 2022 |
| Single (adults and teenagers from 16 years) | 515 € | 540 € |
| Double Room (adults and teenagers from 16 years)* | 400 € | 425 € |
| 4 bed room adults + teenagers from 16 years | 340 € | 365 € |
| Tent (adults + teenagers from 16 years) | 290 € | 315 € |
| Children (0-2) | - € | - € |
| Children (3-11) in tent | 165 € | 190 € |
| Children (3-11) in 4 bedroom | 195 € | 220 € |
| Children (3-11) in a double room,* | 225 € | 250 € |
| Young people (12-15) in the tent | 210 € | 235 € |
| Young people (12-15) in 4 BR | 245 € | 270 € |
| Young people (12-15) in a double room * | 285 € | 310 € |
* Since the double rooms are now scarce, their booking cannot be guaranteed. Please write whether you would like to stay in a quadruple or single room instead.
Please register via this Online registration form
or at: Jens Trautwein, Tel. 0049 - 721 - 9453144
Email: This email address is being protected from spambots. You need JavaScript enabled to view it.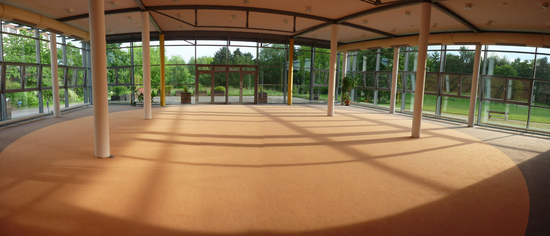 Getting there:
https://www.yoga-vidya.de/seminarhaus-shanti/anreise-abreise/)
Location: Seminar house Shanti, Yogaweg 1, 32805 Horn-Bad Meinberg
By car:
The address of the seminar house Shanti in Yogaweg 1, 32805 Horn-Bad Meinberg was recently changed. Some navigation systems do not yet know this address, then please enter the old address: Wällenweg 46, 32805 Horn-Bad Meinberg.
By train and bus:
Arrive comfortably by train to the train station and then continue on the 782 bus to almost our front door. The start is at the "Bahnhof" bus stop every hour on Sunday from 12:10 to 19:10. You will find the stop if you get out of the train and immediately turn left. The closest exit to us is the "Kurzentrum" stop about 15 minutes later. From there it is a 3 minute walk. Please follow the signs towards 'Yoga Vidya'.
After the first right turn, the Shanti seminar house is the first building on the right. Please report to the reception. Please ask for current departure times and arrival times at www.bahn.de or https://www.stadtverkehr-detmold.de
By plane:
The nearest airport is Paderborn-Lippstadt Airport, which is approximately 42 km away. From there it is approx. 45 minutes direct travel time.
A taxi ride from or to the airport (costs about 75 - 100 €.
You can book this here:
Taxi from Paderborn Airport taxi: Telephone 0152 33693773
Alternatively: Airport to yoga center by public transport:
from Paderborn airport by bus to Paderborn main station, from there by train to Horn-Bad Meinberg station. We continue by bus to the bus station in Bad Meinberg or to the spa center, then walk towards the thermal bath and continue towards the Yoga Vidya seminar center. Alternatively, a taxi call from there, e.g. 05234/98282.
By taxi from Horn station (- Bad Meinberg):
Horn (-Bad Meinberg) train station is about five kilometers from the Shanti seminar house, which is at the end of Bad Meinberg. We kindly ask you to order a taxi a few days in advance for a journey from the train station to the seminar house. Possibly some can also team up.
Taxi call from / to the train station approx. 12 €:
Prasse 05234 89933;
Blomberger / Henke 05234 9555;
24h taxi call from / to the train station approx. € 25:
Radio taxis Limberg 05231-4345;
Residence taxi 05231-27747;
Taxi headquarters Detmold 05231-28066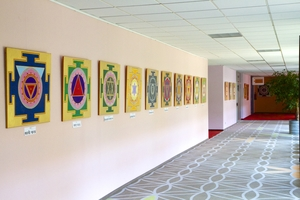 We are looking forward to meet you!
Galery: (click on foto ...)
{gallery}/de/Seminare/fam2020/{/gallery}
Video:
https://www.youtube.com/watch?v=uDuKZhrNOC0&feature=youtu.be